ONBOARDING & RECRUITING
No matter what type of industry you are in CPC can help streamline your hiring process. From single location to multiple locations, single hiring manager to multiple hiring managers, staffing companies, retailers, to a small office we provide a straight forward solution that will improve the employee's experience as well as your hiring staff's. Try our automated hiring process from paperwork to payroll and see how much time and money you save becoming a paperless workforce.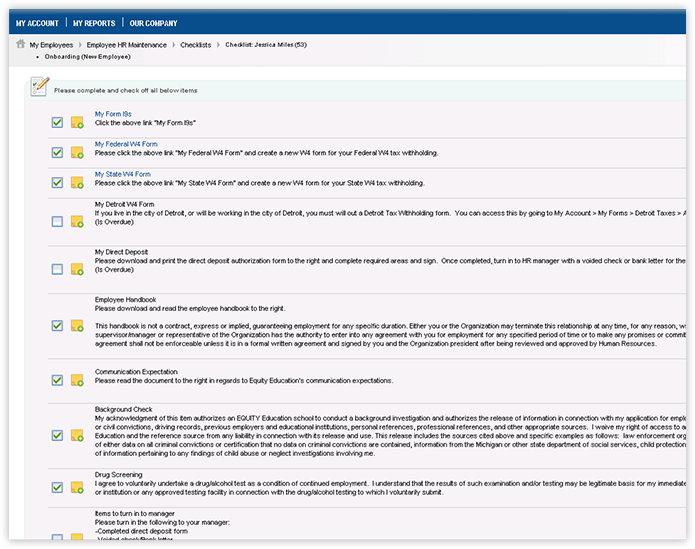 ONBOARDING
Tired of hunting for lost forms, spending money on mailing services and printing costs, securing employee information? Our Effortless Onboarding solution uses a secure website that employees use to complete their new hire paperwork. They are directed through an online logic based Q&A interview designed to capture all the data you need when hiring an employee. This logic driven process ensures the employee completes all necessary forms and only prompts the employee to enter their information once. In addition to completing standard withholding and I9 information, they will also be able to view and acknowledge your company policies. Our unique eSigning process ensures all forms display the employee's signature where required.
ONBOARDING FEATURES
Customized for All of Your New-Hire Forms
Electronic I-9 and W-4 (plus state 4's)
Include Unique Policies & Documents
Access forms stored in our secure virtual "vault" anytime
Workflow / Approval Process Built-In
Bilingual Capable
Exportable data › 100% Web-Based & Secure
Add positions and departments to match your internal codes
Monitor activity using the easy to read real time dashboards
PRINT a form – all forms are generated in a single PDF document and can be easily viewed and printed if required

Effortless

Seamless

Secure
EFFORTLESS ONBOARDING
Seamless Integration into the CPC Payroll/Workforce Management Solution
Once a new hire employee has fully completed the e-Onboarding process the data and attachments flow into the CPC Payroll/HCM Solution, and are available for review in real time. Now you don't have to worry if the employee data is ready for payroll, it has already been completed at the onboarding process. This virtually eliminates paper files and the need to fax or send data to CPC to get an employee on payroll!
CPC e-Onboarding Work Opportunity Tax Credit Screening or Full Processing
CPC has two models for WOTC; screening or full processing. In both models, your employee answers a few simple plain English questions to help determine if they are potentially eligible for the program. Finding even one eligible candidate can mean thousands of dollars for your company. We complete the required forms for you or our screening model allows you to process your own credits. Twenty eight days could go by very quickly when you were dealing with hand written 8850's and 9061's. CPC's e-Onboarding process guarantees all paperwork will be done immediately and in good order to insure you receive your tax credit.
RECRUITING
The recruitment module streamlines processes throughout each hiring stage, creating customizable workflows between applicants and the hiring manager to provide a comprehensive experience for companies and their job candidates.
Efficient ATS is an applicant tracking solution that is used to recruit candidates to your workforce. Completely paperless and customizable, use this simple solution to streamline your candidate review process. Integrated tools allow you to quickly post positions to your internal website, job boards and social media. Assess candidates using your scoring values and invite others to review potentials. Once you are ready to hire, it's easy to invite your candidate to complete your Onboarding process.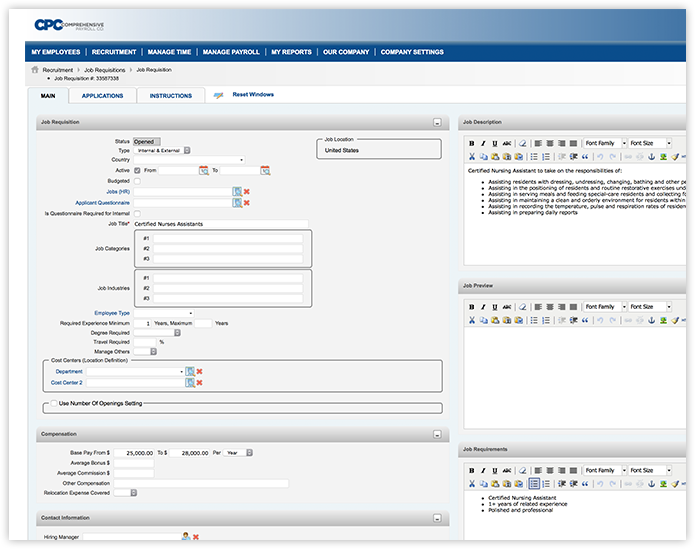 RECRUITING BENEFITS
POST job openings to multiple boards and social networks
CUSTOMIZE job applications – create your ideal application
INTUITIVE – easily manage and evaluate applicants for multiple positions departments, etc
RANK applicants according to your prescreen questions
COLLECT & MANAGE applications from multiple sources
COLLABORATE and share notes among other users
SORT applicants by location
WORK FLOW MANAGEMENT designed by you
REAL-TIME ANALYTICS – increase your ROI and supercharge your hiring process
READY TO HIRE? Export your candidate into the Efficient Hire Onboarding solution to complete